About Dr. O'Leary


Dr. Erin O'Leary grew up in Arlington, Virginia and earned an undergraduate degree from Virginia Tech in Family & Child Development. She taught kindergarten for four years at John Eaton Elementary School in Washington, DC before returning to Blacksburg in 2000 to earn her DVM from Virginia-Maryland Regional College of Veterinary Medicine. Erin was fortunate to enjoy a wide variety of experiences during her veterinary education including participating in a wildlife course in South Africa, performing low cost spays and neuters on Native American reservations in Minnesota, volunteering with foals at the Marion duPont Scott Equine Medical Center in Leesburg and working with gorillas and orangutans at the National Zoo. Since graduating, Dr. O'Leary has worked at small animal hospitals in Virginia, North Carolina and Southern California. Erin currently resides in Raleigh, North Carolina.
About HEAL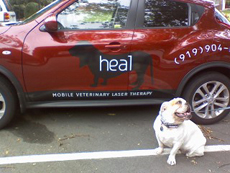 HEAL began after Dr. O'Leary saw the benefits of laser therapy in her own dog, Trooper. After completing training and certification she opened the mobile service to make laser treatments more convenient and available to those pets who have a hard time getting in and out of the car, who don't do well in a hospital environment or whose owners have a hard time making it into the hospital. In addition to the convenience of a mobile service, HEAL laser therapy can make a difference for pets who aren't responding to other therapies or can't utilize the benefits of medical treatment due to side effects or restrictive underlying conditions.
Trooper's Story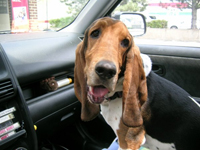 Trooper (formerly "Patches") came into Virginia-Maryland Regional College of Veterinary Medicine as a surgery patient while Erin was in her senior year. He was under the care of BROOD and presented with a severe lameness on his front left leg. Doctors there diagnosed him with elbow dysplasia in both legs, left being the worst, and recommended an experimental surgery. There was concern that the surgery would not be successful but the rescue group decided to proceed. True to his soon to be name, Trooper did an amazing job of recovery (other than a mysterious disappearance of the entire bottle of his pain medication which required that he, and the two other bassets who he was being fostered with, return to the hospital for a four day detoxification!) It was then that Erin first met him. She had lost her 16 year old dog Thumper a year earlier to cancer and as the senior year of veterinary school is hardly an ideal time to adopt a dog, she was not looking for a new family member. The decision, however, was clearly not hers to make. After a few hours with this little guy it was quite obvious that he had found a new home. Trooper has traveled with her all over the country and her time in Southern California brought about Erin's first exposure to laser therapy. Wanting to do what she could to stave off arthritis and decrease the pain from his elbows, hips and back, she enrolled Trooper in a rehabilitation program at CARE. There laser therapy is just one component of a comprehensive pain management program including physical therapy, hydrotherapy, acupuncture and massage. After seeing the results that can be obtained through these programs, Erin began to focus specifically on laser therapy and started HEAL to enable even more animals to benefit from this technology, particularly in a low-stress home environment.