What is a typical schedule for laser treatments?
The number of sessions will depend on a number of different factors including your pet's age, diagnosis, chronicity of the condition and overall health status. In general acute conditions require fewer treatments (typically 4-6) while more chronic conditions can require closer to 10-12 sessions before reaching the desired response.

The treatment schedule is dependent on the condition we are treating, wounds are typically treated every other day and arthritic or painful conditions can be treated daily. The effects of laser therapy are cumulative.

Maintenance treatments are on an as-needed basis to preserve and sustain the response we achieved during previous sessions.
What are the charges for laser therapy?
There is a $35 Initial Consult Fee for the first visit.

Laser treatment sessions range from $85-$135 per session depending on distance to your house.

Check or cash is preferred but credit cards can be processed through PayPal.
What to expect from an appointment with heal?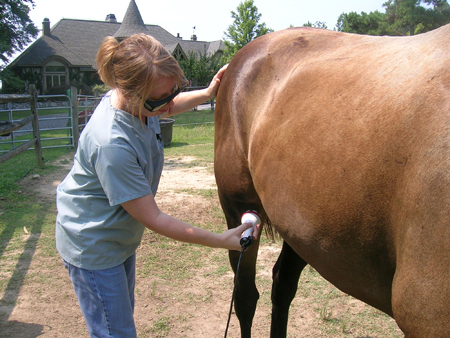 Appointments may be set up via phone 919-904-4325 or email

info@healpetlaser.com

We will set up a time that works best for you and set up a half hour "window" to arrive

The initial appointment is longer as we will gather information and determine a treatment plan for your pet

You are able to hold your pet during the laser treatment, they may also have treats or anything to make them comfortable

The length of each laser application typically lasts between 3-10 minutes per site being treated

The laser is applied directly to the skin or near the skin depending on the condition

There is no need for the fur to be clipped or for any special preparation prior to the treatment

Normal activity is fine before and after the treatments
WE PROUDLY WORK WITH RESCUE GROUPS AND SHELTERS TO BRING PAIN RELIEF AND ACCELERATED WOUND HEALING TO PETS WHO HAVE YET TO FIND PERMANENT HOMES. HEAL BRINGS THE BENEFITS OF LASER THERAPY TO SERVICE AND THERAPY ANIMALS, WORKING DOGS AND HORSES AND AGILITY AND SHOW DOGS.
WHO WE WORK WITH:
Veterinarians:
Mobile Laser Veterinary Service: www.mobilelaservet.com
Clocktower Animal Hospital: www.clocktowervet.com
Socks and Co: www.socksandcomobilevet.com
Veterinary Express: www.veterinaryexpress.com
Dr. Marty's Veterinary Services: www.vetmobiletriangle.com
Veterinary Care Anywhere: www.vetcarenc.com
Rescue Groups:
Carolina Basset Hound Rescue: www.cbhr.com
CARA: www.cara-nc.org
Goathouse Refuge: www.goathouserefuge.org
C.A.M.P. Rescue: www.camp-rescue.com
Neuse River Golden Retriever Rescue: www.goldenrescuenc.org
Triangle Greyhound Society: www.trianglegreyhound.org
Pet Services:
Camp Canine Interactive Canine Facility: www.campcanine.com
Best Friends: www.bestfriendspetcare.com
Dogtopia: www.dogdaycare.com